About
Ashlyn Rudolph is an Illustrator / Crafter from Charlotte, NC, currently living in Richmond, VA. She gained her BFA in Communication Arts from Virginia Commonwealth University in the spring of 2020. Since then she's been creating comics, illustrations, and wood craft projects from her in-home studio.
She enjoys creating with themes of medieval illuminations and cult camp aesthetics, and does oddities-inspired wood-burnings in her spare time.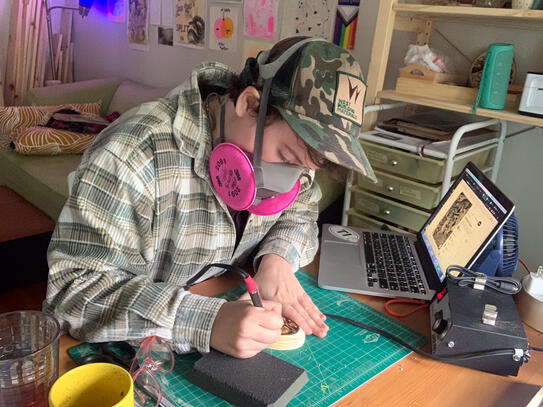 Find Ash Here:
Wood - Burning
During the uncertainty of the COVID-19 Pandemic, Ash took to wood-burning in her free time. Wood craft quickly turned into a creative outlet that let her work out complex emotions by burning into her plaques. Here is a sample of what she's created, either through commission or personal idea.
If you'd like to commission a wood piece, please refer to the commissions page for more information!
Commission Catalog

Please read below if you're interested in commissioning me! Once read, please fill out the form below.